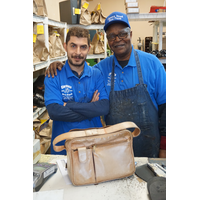 When Bassam Osman and his family arrived in Cincinnati as refugees from Syria in 2016, the only work he wanted to do was to be a cobbler. Catholic Charities was having difficulty finding him his dream job, but CARV stepped in. The group had been asked to mentor this family so when Alberta Hemsley learned of the issue at a CARV Gathering she contacted her shoe shop. They didn't need anyone but referred her to "Clarence." Bassam found his job at Clarence Howell Shoe Repair and it was the beginning of a strong relationship between Clarence Howell and the Osman family.
Their story was featured in the front page of the Cincinnati Enquirer. Click here for a link to "Sole Brothers."
When Clarence turned eighty, he and Bassam started planning for Bassam to buy the business. Sadly, Clarence passed away suddenly in March, 2023. However, Bassam is working with his family to acquire the shop and keep Clarence's legacy alive. It's a great time to check your closet and drawers for shoes, boots, purses and other leather goods that need some attention. The shop is open Tuesday through Saturday at 6089 Montgomery Road in Pleasant Ridge.
CARV members who have helped mentor the Osman family will be glad to know they are doing well. There are three new little Buckeyes. Mayada and Bassam have purchased a condo in West Chester and the five oldest children are students in the Lakota Schools.
---