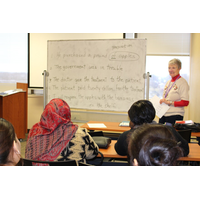 In the coming months, Afghan families are expected to begin resettling in the US, including in the Greater Cincinnati area. CARV member, Annie Scheid Jasinski (Jamaica) will be heading up the process as Director for Refugee Resettlement Services at Catholic Charities of Southwest Ohio. On November 1, Annie was featured on WVXU's "Cincinnati Edition" along with her colleague Tara Dahal and her Kentucky counterpart, John Koehlinger of Kentucky Refugee Ministries.
Tara is a former refugee himself, having come here from Bhutan over twenty years ago. He is a case worker with Catholic Charities and a member of their Board. Tara spoke eloquently about his expectations for a warm welcome of the newcomers to our community. Annie and John discussed the process of resettlement, which includes locating affordable housing, doing medical assessments, finding employment and enrolling children in schools. Although families are expected to become self-sufficient in a very short period of time, both agencies will continue to assist them in many ways. To volunteer, CARV members can contact Annie at aschied@ccswoh.org.
Click here to access the radio program.
---