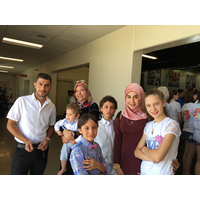 Plan to join Catholic Charities of Southwest Ohio and area refugees as they celebrate World Refugee Day online on Saturday June 20. Here is a message from Rachel Burgess and Annie Scheid Jasinski (Jamaica 91 - 93):
Hi, current and former volunteers or those connected with the Refugee Resettlement program somehow!
I miss seeing you all. I hope you are doing well!
We are hosting our annual World Refugee Day celebration virtually this year via Facebook Live on Saturday, June 20. Please like our page and join us on Saturday at 1pm for the celebration.
We'll have dances, a cooking demonstration and interviews with clients. Plus, I'll be emceeing.
"Like" our page: https://www.facebook.com/CatholicCharitiesSWOhio
And RSVP for the event: https://www.facebook.com/events/26411288361642
Hope to "see" you then.
Take care,
Rachel
---