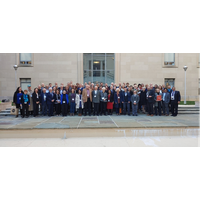 Message from Michael Roman:
Hi CARV Members!
Although Peace Corps Month has ended, Senate and House advocacy efforts have not, and we need your help! This past March, I was fortunate to be joined by over 100 other RPCVs, host country nationals, and agency staff to advocate for the passage of the Peace Corps Reauthorization Act of 2023. Like Rep. Chabot, Rep. Landsman is a fan of the Peace Corps! We held a DC meeting, proposing support for the legislation and joining the caucus. The meeting was productive, and the staffer felt he would be in support of everything we proposed. During this month's town hall, I reiterated our asks, to which he stated he would co-sponsor the bill, and join the Peace Corps Caucus. After reviewing the current co-sponsorship, his name is still missing. Rep. Wenstrup's staffer we met with has a relative who was in the Peace Corps and feels Rep. Wenstrup would support this legislation.
Sen. Brown has been a lifelong supporter of the Peace Corps, and Sen. Vance is new. In both meetings with the respective offices, staffers saw no reason why Senators would be against supporting the Peace Corps.
Here is where we need you! I am just one person; bills become co-sponsored when representatives hear from constituents. With just one minute of your time, you can send a letter to Sen. Brown, Sen. Vance, and Rep. Landsman or Rep. Wenstrup at this link!
Let's keep making Peace Corps better for future generations of volunteers!
---