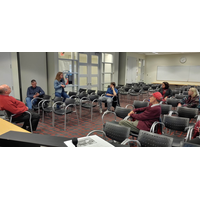 On March 28, 2023 five returned Peace Corps Volunteers (RPCVs) participated in a Peace Corps (PC) information session at University of Cincinnati (UC) organized by Michael Roman (Kiribati 2000-02, Primary Education and At-large board member of NPCA). The goal of the evening was to expose interested UC students to PC and to discuss the PC recruitment process. Professor Johanna Looye, coordinator of the Paul D. Coverdell Fellowship program at UC, provided insights into that program.
The session was built around a presentation developed by Michael (see attached). The presentation touched on the history of PC, PC's current footprint around the world, qualifications to become a volunteer and a timeline for the application process. Videos of recent volunteers showed how volunteers spend their time in their communities. The evening was rounded out by contributions from the RPCVs present (see the list below) about different aspects of their service in their respective countries.
Although only two UC students attended the session, they enjoyed the presentation and asked a number of pertinent questions on how to decide if PC is the right decision, how it may affect their future careers and what life might be like at their PC site. Having RPCVs from a number of different areas (Eastern Europe, Asia, Africa, Oceania) and different time periods (from the mid-60s to the 2000s) provided for rich and varied responses.
Future PC information sessions will be organized at UC and Xavier University next academic year with a goal of holding information sessions early in the fall semester. We will collaborate with the Office of Community Engagement at UC, and the Bruggeman Center for Dialogue at Xavier University. Keep an eye out for future opportunities to recruit the new generation of Peace Corps Volunteers!
RPCV participants:
Donald Dickerson (Togo, 1981-83, High School Math Teacher)

Peter Nerone (Togo, 1983-87, Ag. Co-Ops)

Carla Cesare, (Slovak Republic, 1995-98, Small Business Development)

Ashley Burman (Moldova, 2007-09, Health)

Nick Hoesl (Afghanistan, 1965-68, Pharmacy Education ???)
---